workshop
An Unforgettable Tote Bag!
Below left: A few workshop participants from Penn Needles tout their totes! Tote-ally fabulous, ladies!! Below right: my Taxi Tote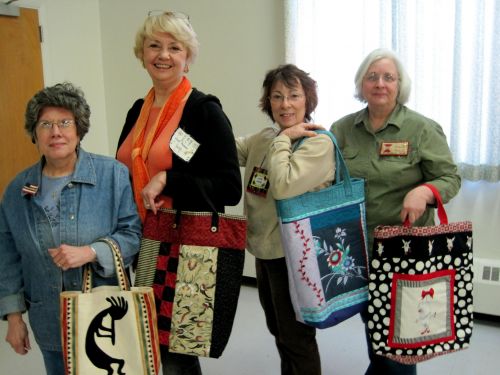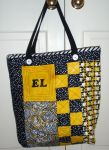 You'll be so proud to design, make, and carry your own customized, generously-sized tote bag, you'll never leave it behind! Inspired by one or more of the masterpieces in my book, Unforgettable TOTE BAGS, you'll use canvas, denim, or upholstery-weight fabric for the bag, lining, and/or sturdy foundation. Instead of following a commercial pattern for a bag, I'll guide you to create your own original design and construct a sturdy, box-bottom bag.
"Thanks so much for spending your time with us. It was very special. My two daughters have been bugging me to make them carry bags---now I will!" -- Linda Curry, Keystone Quilters
(I can't decide which side of your finished bag I like better, Linda!)
Design your bag around a small UFO or orphan block, or a few favorite fabrics. I'll guide you in the design decisions in class, so if you want to avoid lugging your sewing machine to class, you can quickly stitch up the bag once you get home.
Class Supply List:
Fabrics: 1/2 yard preshrunk, medium- or heavy-weight cotton canvas fabric, upholstery fabric, hemp, etc.
Optional:
1/4 yard more of same canvas, for embellishments
Either:
Orphan block or small UFO, with 1/2 yard each two coordinating fabrics
OR
Fat quarter or up to 1/2 yard of fabric you love, for focal fabric
2 fat quarters to coordinate, i.e., prints in a similar color palette, but a different type of scale or pattern, darks, lights, checkerboard, stripe, or other geometric in colors to coordinate
If desired, batting 18" x 36"
2 yards webbing in color to match fabrics, for handles
Tools: Basic rotary cutting supplies; long straight pins and pin cushion
Optional: Sewing machine with 80/12 machine needle for piecing and 90/14 machine needle for bag assembly, threaded with 50-weight sewing thread (neutral or colors to match fabrics). Note: featherweights are probably not up to the task of sewing through layers of heavy-duty fabrics, so you are welcome to pack light, leave your sewing machine at home, and devote the workshop time to designing and cutting, saving the quick and easy stitching for later at home. Thread snips or small scissors.
1/2 day class: No sewing machines necessary: Just design and lay out your own, original and unforgettable tote bag!

Full-Day class: Piece a quilt top, using
your choice of fabrics:
just 3 fat quarters, or throw in a couple of fat eighths. Use "What's for Dinner?" and "Pour on the Color" from the book as inspiration, and check out my Taxi Tote in yellow with black and white at the top of this page!
The Cobblestone Quilters' Guild, on the outskirts of Charleston, SC, cobbled, created, coordinated and got a big jump on some of the most individualized, personalized projects I've seen! Take a look:

, Even with one arm in a sling, Virginia got her bag done in next to no time!! Wow!

Oh, the Ohio Valley Quilters' Guild honed in on the most successful designs with their unique UFOs and beloved fabrics. First, see how Laura auditioned possibilities:

Kim and Lisa also wended their way towards great designs!
The Keystone Quilters of Quakertown certainly held the key to unique, unforgettable tote bag design! See Linda Curry's above, and her guild sisters' work below. Please forgive my fuzzy photos!
Everyone at my workshop with the Anchorage Log Cabin Quilters guild composed a completely different bag, suited to each person's unique individuality and style! Check it out, and think about bringing me in to teach a workshop for YOUR guild. I guarantee, everyone comes out with a successful design with their personal stamp on it!
and look who finished her tote bag within 14 hours! Ruthe, YOU get lots of brownie points. Or would you prefer apple pie points?!

More photos of finished bags are coming in! Check 'em out; left to right, by Barbara Clinton, Donna Evans, and Kathleen Boulch: